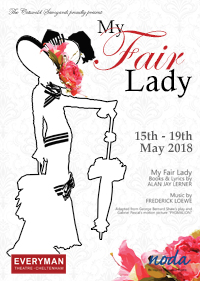 15th - 19th May 2018
Everyman Theatre, Cheltenham
Music by Frederick Loewe
Lyrics by Alan Jay Lerner
By arrangment with Musicscope and Stage Musicals Limited of New York
Adapted from George Bernard Shaw's play and Gabriel Pascal's motion picture Pygmalion
Stage Director:
Ginny Burge
Musical Director:
Karen Gillespie
Winner of six Tony Awards including best musical, My Fair Lady sparkles with wit, elegance and romance, telling the story of an Edwardian cockney flower girl's transformation into the pride of London society. This beautiful production of My Fair Lady will transport you from the streets where you live to the flower markets of London, the racecourses of Ascot and to the glittering heights of an Embassy Ball where everything is 'Absolutely Bloomin' Loverly'.
Musical numbers include On The Street Where You Live, Get Me To The Church on Time, Wouldn't It Be Loverly, With A Little Bit of Luck and I've Grown Accustomed to her Face.
My Fair Lady is a jewel in the crown of the great musicals, written by Lerner and Loewe (Brigadoon, Camelot and Gigi) and based on Bernard Shaw's Pygmalion
Cast List
Eliza - Hannah Bennett
Higgins - Paul Scott
Pickering - David Manifold
Mrs Higgins - Sally Lewis
Alfie Doolittle - Malcolm Webb
Freddy - Ralph Barnes
Mrs Pearce - Jeanie Flint
Mrs Eynesford-Hill - Bronwen Carless
Jamie - John Pickup
Harry - Ashley Frieze
Servants:
Liz Nixon
Sarah Thompson
Richard Schofield
Dancers/Ensemble
Helen Carter
Becks Grant-Jones
Rachel Prudden
Penny Shewell
Arion King
Ensemble
Ann Cox
Jamie Louise-Dobbins
Sarah Eliot
Fiona Hale
Sheila Ham
Anne Martin
Jo Scriven
Tara Turner
Sheryl Walpole
Carys Whitby
Paul Chesworth
Alan Flint
Chris Hannant
Simon Lewis
Samual P Taunton
Mike Welsh
There will be a further audition for ensemble bass and tenors on Thursday 1st February 2018 during the rehearsal commencing at approx 7.30pm at Shurdington Primary School. Auditions will take place in the second half of the evening with audition pieces being workshopped that evening before the audition. Please email the Musical Director, Karen Gillespie, for recordings and copies of the music (karengillespie@hotmail.co.uk).
Click here for members advance booking form. If you wish to book electronically, please complete the form and email back to Paul Chesworth.
For further information please contact Richard Schofield, Production Secretary, at richardaschofield@btinternet.com.