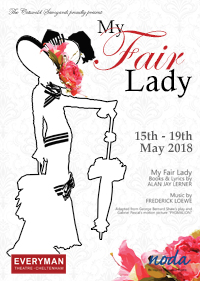 15th - 19th May 2018
Everyman Theatre, Cheltenham
Music by Frederick Loewe
Lyrics by Alan Jay Lerner
By arrangment with Musicscope and Stage Musicals Limited of New York
Adapted from George Bernard Shaw's play and Gabriel Pascal's motion picture Pygmalion
Stage Director:
Ginny Burge
Musical Director:
Karen Gillespie
Winner of six Tony Awards including best musical, My Fair Lady sparkles with wit, elegance and romance, telling the story of an Edwardian cockney flower girl's transformation into the pride of London society. This beautiful production of My Fair Lady will transport you from the streets where you live to the flower markets of London, the racecourses of Ascot and to the glittering heights of an Embassy Ball where everything is 'Absolutely Bloomin' Loverly'.
Musical numbers include On The Street Where You Live, Get Me To The Church on Time, Wouldn't It Be Loverly, With A Little Bit of Luck and I've Grown Accustomed to her Face.
My Fair Lady is a jewel in the crown of the great musicals, written by Lerner and Loewe (Brigadoon, Camelot and Gigi) and based on Bernard Shaw's Pygmalion
Pre-audition evenings will be held on 16th, 18th, 23rd and 25th January at Shurdington Primary School commencing at 7.30pm.
First round auditions for Eliza and Henry Higgins will take place on Thursday 25th January with full audition day being held on Sunday 28th January 2018, times to be confirmed.
Click here for the My Fair Lady audition form.
Click here for character descriptions and audition information. For information on audition pieces please contact Paul Chesworth (pchesworth44@gmail.com).