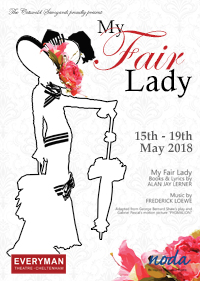 15th - 19th May 2018
Everyman Theatre, Cheltenham
Music by Frederick Loewe
Lyrics by Alan Jay Lerner
By arrangment with Musicscope and Stage Musicals Limited of New York
Adapted from George Bernard Shaw's play and Gabriel Pascal's motion picture Pygmalion
Stage Director:
Ginny Burge
Musical Director:
Karen Gillespie
Winner of six Tony Awards including best musical, My Fair Lady sparkles with wit, elegance and romance, telling the story of an Edwardian cockney flower girl's transformation into the pride of London society. This beautiful production of My Fair Lady will transport you from the streets where you live to the flower markets of London, the racecourses of Ascot and to the glittering heights of an Embassy Ball where everything is 'Absolutely Bloomin' Loverly'.
Musical numbers include On The Street Where You Live, Get Me To The Church on Time, Wouldn't It Be Loverly, With A Little Bit of Luck and I've Grown Accustomed to her Face.
My Fair Lady is a jewel in the crown of the great musicals, written by Lerner and Loewe (Brigadoon, Camelot and Gigi) and based on Bernard Shaw's Pygmalion
Pre-audition evenings will be held on 16th, 18th, 23rd and 25th January at Shurdington Primary School commencing at 7.30pm.
First round auditions for Eliza and Henry Higgins will take place on Thursday 25th January with full audition day being held on Sunday 28th January 2018.
Thursday 25th January:
7.30 - 8.15 Ensemble pre-audition rehearsal
8.15 - 10.00 First round of auditions for Eliza and Higgins
Below is the DRAFT of timings for SUNDAY's auditions (updated 24/01/18)
Please check back on Saturday morning in case there are changes.
10.00am Call for Mrs Higgins and those wishing to audition for Ensemble only.
10.45am Call for Servants and Mrs Pearce
12.45pm Call for Freddy and Mrs Pearce (plus Gail and Arion)
1.20pm Call for Pickering
2.15pm Call for returning Elizas
2.30pm Call for Doolittle
3.00pm Call for returning Higgins
Please note that you may be required to stay for a couple of hours. The panel will notify the production team to confirm when individuals are free to leave.
We have decided to audition ensemble members in pairs and as a result this audition will enable you to be considered for membership within the society even if you are not successful in gaining a role in this production. Given the potential interest in My Fair Lady, the Committee has approved this amendment to the audition guidelines for this production.
Click here for the My Fair Lady audition form.
Click here for character descriptions and audition information. For information on audition pieces please contact Paul Chesworth (pchesworth44@gmail.com).